Want to know the Best Hairstyles and Haircuts for Women over 50? you've come to the right place, Baospace.com. The 3rd age is a rather stressful time for women because they face several challenges including that of maintaining their hair beauty at the top.
That's why many of them take enough time in magazines to look for the perfect cut for their hair. A proverb says that love has no age, I say that beauty also has no age.
Let's recapture your style and confidence by showing you how to stay chic after 50.
So ladies do not worry that you will be called sugar mammy or cougar because of your sublime appearance. Make yourself beautiful and especially feel beautiful despite your advanced age.
In this article, we offer the 23+ Best Hairstyles and haircuts for women over 50 in 2021.
23+ Gorgeous Hairstyles and Haircuts for Women over 50 in 2021
[lwptoc]
1. The pixie bob
This hairstyle is one of the most fashionable for women over 50 years old. This tanned coloring makes it beautiful and unique especially for women with short hair,
2. Tight but messy curls
Easy hairstyle to make on short hair with a maximum of a quarter of an hour with a comb and a curling iron. It is true that this gives a youthful appearance but very elegant to match with jackets and high heels.
3. A super short cut
This would be the perfect look for anyone with a long et up face. Just open the hair on one side of your choice by fixing it with the hair gel. Class, elegance, and charisma are assured every day.
View this post on Instagram
Related Posts: 15 Best Outfits to Wear to a Concert
4. Medium Layered Hairstyle with Bangs
Stylists think that the hairstyle should reflect the character and personality of each. And a hairstyle must be according to the volume of the hair and its length; therefore women of the third age must now dare those are good to feel beautiful and elegant.
5. Short Curly Salt and Pepper Bob
This look depends exclusively on the structure of the hair: short or medium and curly ones. Curly hair is excellent for this hairstyle especially when it is wet to have the perfect shape.
Related post: The 25+ Trendy Layered Haircuts and Hairstyles
6. Feathered layers
Ideal hairstyle for women with round faces. The height of the hair makes up the layers that are superficial.
7. Shoulder-length salt-and-pepper locks
Women with long hair up to the shoulders can afford this model which then will be easy to entertain or easy to prepare before going out. Preferably winter hairstyle to protect your neck and head from the cold.
8. Reverse-Ombre for Short Grey Hair
This hairstyle with the combination of gray and black colors gives a unique touch to the hair. Ideal for blonde women and above all allows you to remember youth because it keeps the appearance of the face young enough.
9. Angled sleek cut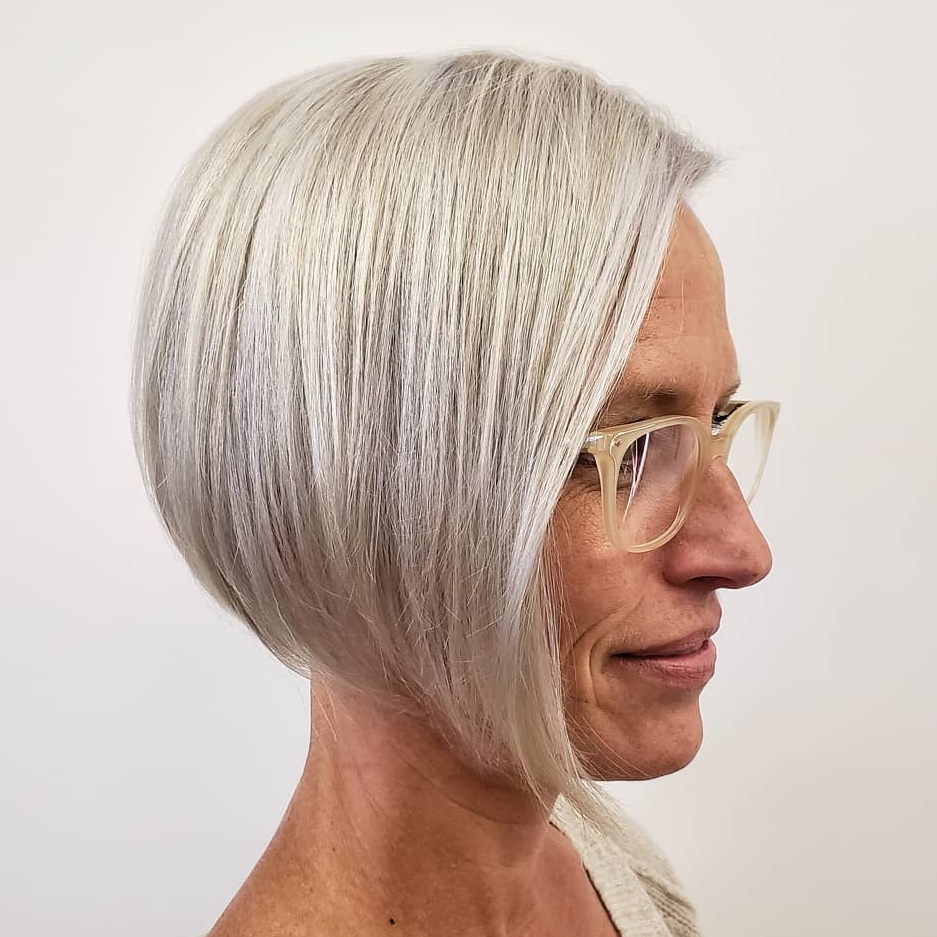 It should be noted that in this hairstyle the edges of the hair that are in front close to the face are long and allow to make the facial features come out perfectly. It combines elegance and class.
10. A deep side parting
Do not despair because there are all models for various hair types. This one goes to the wonder for short and thin hair and it does not take long. To try and there will be no disappointment. https://sbtreatment.com/
11. Wavy Shaggy Copper Blonde Bob
Kissed by Luck who has extremely thick hair that reaches to the shoulders. Caramel tones and honey reflections show off the color of the skin. 100% for blondes.
12. Voluminous Nape-Length Tapered Cut
An intergenerational hairstyle, with a hair lift at the level of the nape that looks like a crown. Depending on the color of the skin, you can choose which type of paint to apply to the hair.
13. Over 50 Messy Pixie Bob Hairstyle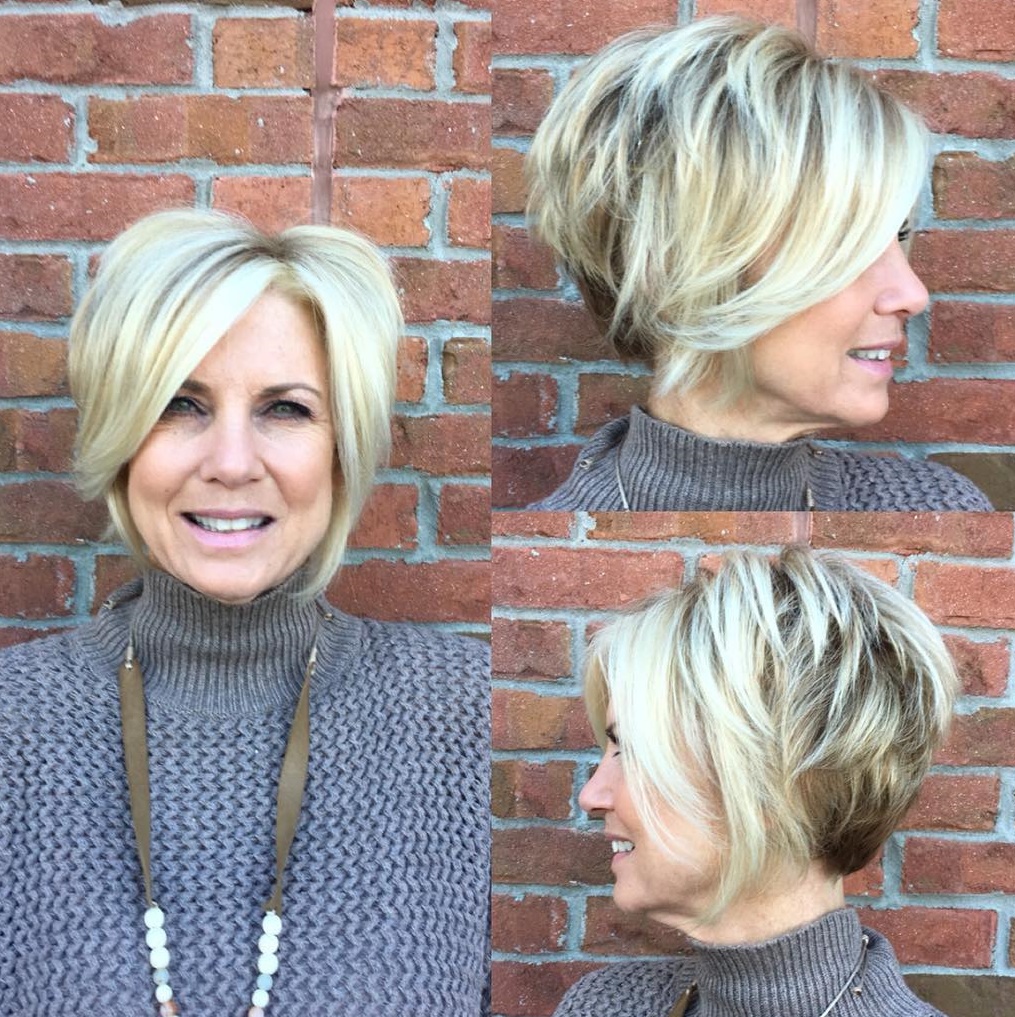 Popular Look for women who do not have enough time to care for their hair. It seems that the hair gives a feeling of uneven movement because the layers of the hair are out of Phase.
Great for those with a long face then you can apply any type of paint to have more style.
14. A shag cut
The style that works with thin hair. It is made use of razors and shears and you have a funky result.
15. Cute Feathered Brown Pixie Over 50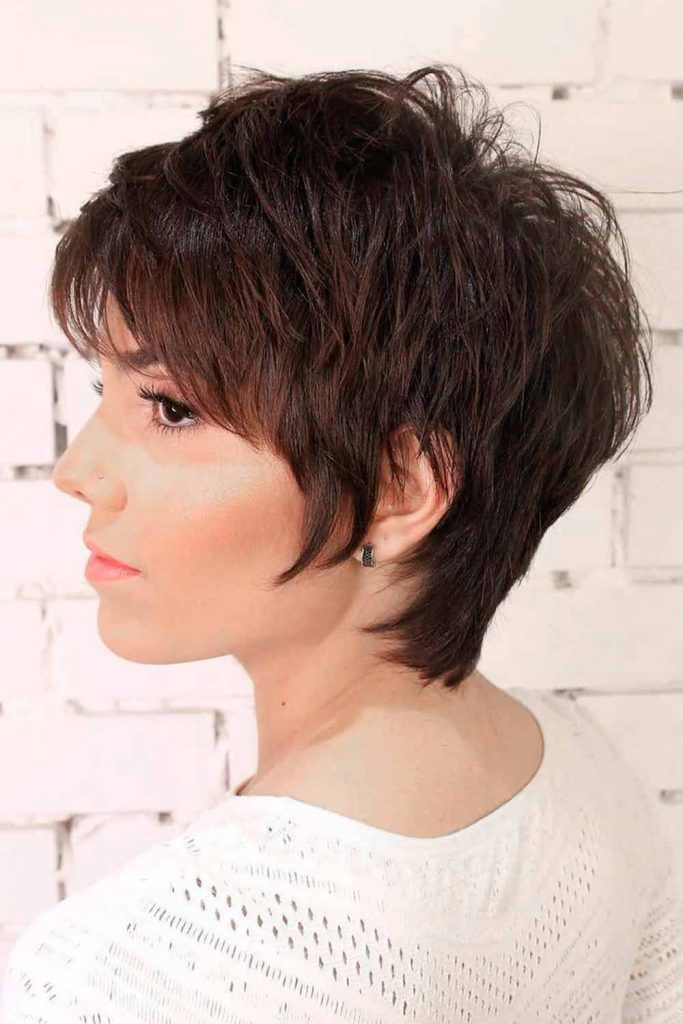 During the summer when the heat comes, those who do not want to feel cluttered by the hair can cut them to have freedom of movement both on the beach and in the pool.
To try for those who have thick hair and curls, then you can add a dye according to taste. Who does not want to look like the beautiful Halle Berry?
Related Posts: 15 Best Outfits to Wear to a Concert
16. Highlights and Lowlights in Medium Length Cut
Hairstyle characterized by a mix of soft layers with light and dark strands. Hair with a cut of the right length to the shoulders; it is a style most loved by older ladies.
Also Read: 24+ Trending Black Braided Hairstyles for Women
17. A swoopy side fringe
The magic tricks this look are the platelet or a round brush to have a feeling of Hair Volume. Combination of two different lengths; the hair that is in front comes before the shoulders than those behind go slightly after the shoulders.
18. Red, Bold and Spiky Pixie
Those who love the style of rock stars are in the right place; hairstyle for people who want to dare the bright colors on their hair. The tips of the hair are cheeky and it looks difficult but it is easy to shape.
19.  Short Tom Boy wavy hair
It requires a millimeter cut of hair without causing the hair to be swollen. A cut with The Shape of spindles gives lightness and stability to the hair.
20. A rounded bob
The success of this hairstyle depends on The Shape of the hair and the volume of the cut. It is elegant and has the shape of a helmet.
21. Subtle waves
Perfect for those with a round face and glasses because the hair is long to the chin and takes the shape of waves that are thin. Simplicity and class.
22. The Oprah Haircut
23. The Straight Falling Style
View this post on Instagram
Recommendations:
For Fine Hair, try: short-to-medium bob haircut, cheeky pixie haircuts
For Thick hair, try layered medium or long hairstyles, medium pixie or long bobs, with waves.
Other Haircuts for Women Over 50 you will love
View this post on Instagram
View this post on Instagram
View this post on Instagram
View this post on Instagram
Conclusion
We've just covered the most popular Hairstyles and Haircuts for Women over 50 to try in 2021. We hope you like this list and make the best choice for your hair type and face shape, but most importantly, a hairstyle that makes you look beautiful and unique.
On Baospace.com, you will find the best women hairstyles and women haircuts to try, so bookmark this page and come back to read more!.
Sharing is Caring!! Share this post on social media and Bookmark it.
Check out these other posts: 
The 25+ Trendy Layered Haircuts and Hairstyles
24+ Trending Black Braided Hairstyles for Women
The Trendy Hairstyles and Haircuts for Women
The 40+ Most Irresistible Black Girl Hairstyles to try
The Hottest 25 Box Braids Hairstyles to Try
The 20+ Hottest Women in the World Right Now